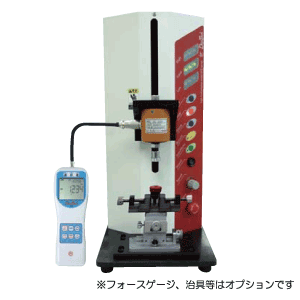 Is the tensile and compression type electric stand up to 2000N (200kg).
Using an external connection type Force gauge DTW series, you can use to connect the load cells directly to the instrument.
Rise due to set load and the setting displacement, down, stop, OK by the LED and the buzzer, the various functions such as ± NG judgment and overload stop is available.
Model-AFS-2000 specification
Capacity
2000N(200kgf)
Rength Resolution
0.01mm
Test speed
5~100mm/min
Test stroke
250mm
Mechanical operations
AUTO / MANUAL operation switching function
Pass-fail judgment display function by buzzer sound and LED
Rise and fall, stop, and repeated by the set load.
Rise and fall, stop, and repeat by setting displacement.
Safety measure
Any set limit stop / overload stop / emergency stop SW
Table Dimensions
W250×D110mm
Dimensions
W250×H565×D375mm
Weight
approx. 45kg
Power supply
AC100~240V
※Specifications are subject to change without notice.