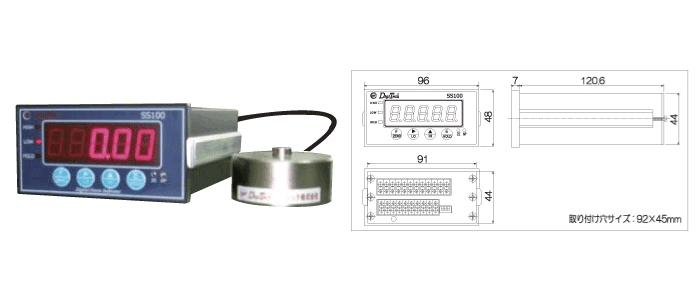 It is a general-purpose digital load indicator for load cells.
It can be connected to various types of load cells.
Open the installation hole can be easily attached to any location.
External data hold function.
Peak data hold function.
Analog data output function.
External xero reset function.
High,Good,Low comparator output function.
Model-ss100 specification
Load cell type
Strain gauge sensor(350Ω,120Ω)
Sensor authorized voltage
DC 5V Load cell(350Ω) / DC10V Load cell(120Ω)
Input signal
1.0, 1.5, 2.0, 3.0mV/V(dip switch)
Display
-19999 ~ +99999
Measuring accuracy
±0.2% F.s
External output
LOW・GOOD・HIGH Comparator output(Open collector)
AC 250V/0.5A , DC 50V/1A
Weight
approx. 800g
Dimension
W96mm×H48mm×D128mm
Power source
AC100~AC240V
※Specifications are subject to change without notice.