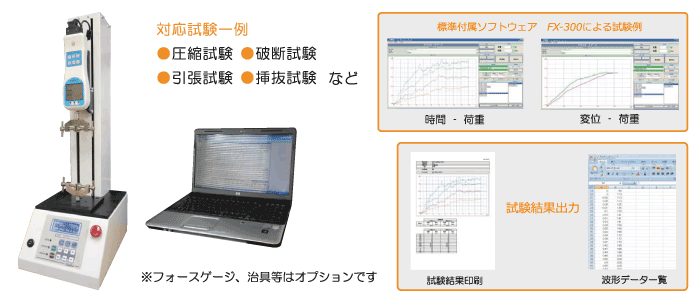 Various load - corresponding to the displacement evaluation test!
It is the desk top model automatic test stand for the DTG force gauge.
Displaced by the PC software - load and time - can test the load is, the graph is a waveform display and can be saved at the time of the test.
Effective stroke also can use a variety of tests in the 430mm margin.
The software has a language switching function of Japanese, English, Korean, Traditional Chinese, Simplified Chinese, you can introduce with confidence to the different production sites.
Model-ASM-1000 specification
Capacity
1000N(100kgf)
Rength Resolution
0.01mm
Test speed
0.1~500mm/min
Test stroke
430mm
Mechanical operations
BLUE backlight LCD
AUTO / MANUAL transfer mode switching
0.01mm, 0.10mm,1.00mm Inching move.
Rise and fall, stop, and repeat by the setting load.
Rise and fall, stop, and repeat by the setting displacement.
External connection
USB input(For PC)
RS232C(For printer output)
Transportation
Precise ball screw / servo motor
Safety measures
Mechanical limit stop / Over load stop / emergency stop SW
Table Dimensions
W250×D130mm
Dimensions
W250×H565×D375mm
Weight
approx. 20kg
Power supply
AC100V~240V
※Specifications are subject to change without notice.