Automatic measuring the switch feeling characteristic test with a high degree of accuracy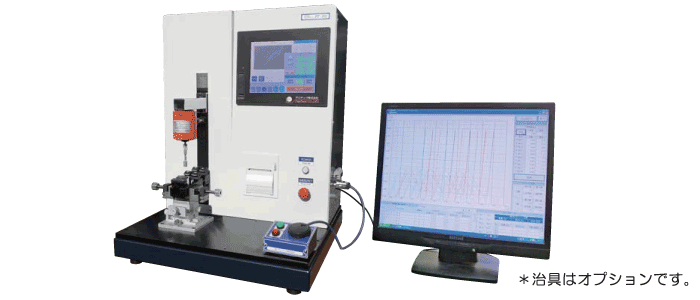 Keyboard and mobile phone, you can have the feeling load measurement of all switches, such as auto parts.
Employed in the operation of the 8.4-inch TFT color LCD touch panel, excellent visibility, you can manipulate the testing machine at hand while watching the test article in the adoption of JOG Shuttle controller, especially in operability.
In addition, you can quickly print a test result in the built-in printer.
FT-502 Specification
| | |
| --- | --- |
| Specification / Model | FT-502 |
| Capacity | Body maximum load1000N(100kgf)、Test load rating is due to the load cell |
| Minimum load display digits | Load 4-digit display(By the load cell) |
| Load accuracy | Within ± 0.5% of indicated value |
| Length resorution | 0.01mm(0.001mm option) |
| Displacement accuracy | ±20μm+0.0001L(mm) |
| Test speed | 0.1~600mm/min |
| Maximum measurement length | 230mm(Without load cell) |
| Measurement content | Peak value, the bottom value, click, click rate, hysteresis, ON / OFF point, etc. |
| The maximum number of repetitions | 999999 times |
| The maximum measuring the number of data | 1000 data |
| Display Monitor | 8.4-inch TFT color LCD touch panel |
| External controller | Jog shuttle dial (7 stage variable speed control, inching control), the start of the test, stop |
| Protection circuit | Limit setting stop, overload stop, emergency stop SW |
| Built-in printer | Thermal paper type thermal dot printer |
| Table size | W480×D230 |
| Communication method | USB1.1 |
| size | W480×H635×D485 |
| Weight | approx.60kg |
| Power source | AC100 or 220V |
※Specifications are subject to change without notice.
CHARACTERISTIC.
To quantify the operating force of the various switches such as tact switches and silicon rubber.
The peak value of the switch, the bottom value, click, click rate, hysteresis, ON point, you can measure the OFF point and the like.
Alternate switch, also double-click switch measurement supports.
You can think visually measuring content to display the waveform data along with the measurement data.
Enter the standard value can be done acceptability determination of each point, you can aggregate the measurement result.
Macro calculation formula arbitrarily capture, you can automatically calculate a variety of test results from the measured waveform data.
Adopted at hand manual control of the testing machine in JOG Shuttle controller, the start of the test, you can stop.
Also the language can be switched at different production sites in Japanese, English, Korean, Simplified Chinese, Traditional Chinese You can introduce immediately.
Corresponding to the high-speed communication with a PC with a USB adoption. Software testing machine control and various data processing options are available.
【Corresponding test an example】
Dome switch
Tact switch
Silicon rubber
Alternate switch
Double-click switches, etc.

It performs a continuous repetition test, you can pick up the data to any number of times every.
The main function of this software
Test conditions save number(Limitless(By HDD capacity))
Test results save number(Limitless(By HDD capacity))
Waveform data reading function of test results
Real-time waveform comparison measurement by the superimposed waveform measurement function
Speed adjustment function waveform reload function
Macro formula registration function
Area specified enlarged display function in the waveform data
Cursor point data registration function of the waveform data(Up to 10 points)
Graph back, grid lines, line color of graphic lines and the like, any setting function of the line type
Side-by-side display function of waveform data(A4 sheet minimum 1 waveform-Up to 25 waveforms)
Cascade function of waveform data(The maximum registration drawable number 10 data)
Cursor point data registration function in Cascade during the display(Up to 10 points)
Creating reports collectively by the export function to EXCEL
13-1. Export individual test results
13-2. Test results list・Aggregate result export
13-3. Waveform log data CSV format export
13-4. Tile export
13-5. Display export superposition
13-6. Macro expansion test results export
Clipboard copy function of the measurement screen
0.01mm、0.10mm、1.00mm,Step movement and continuous movement and stop
Limit stop position setting function of the testing machine
Language switching function(Japanese, English, Korean, Simplified Chinese, Traditional Chinese)