Uniaxial tension/compression load tester for high load (MAX.2kN)
Supports high load tests up to 2 kN, slim design that can be installed in small spaces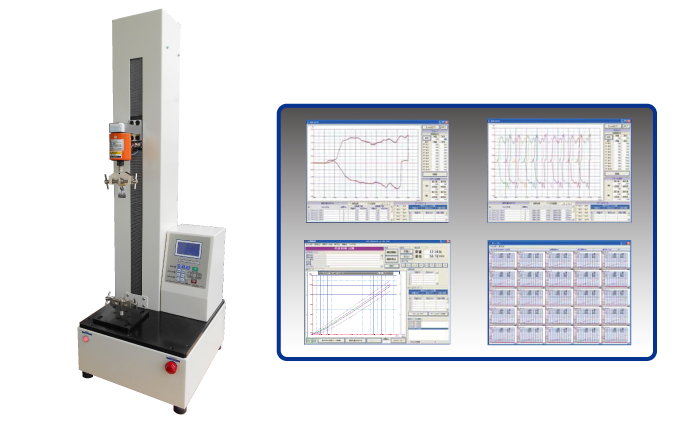 This is a compact tabletop uniaxial load tester for high loads, developed with the concept of ease of use and high functionality.
Detailed test operation configured on the PC will be displayed as a waveform graph the correlation of load and displacement during the test possible.
Also the maximum value, fracture value, you can get any of the points as the test result from the insertion and extraction force and waveform.
Real-time superimposed waveform measurement and waveform reload functions, such as addition to providing a wide range of analysis capabilities, it makes it easy to secondary processing and reporting of test data by the export function to the 30 pattern or more of EXCEL.
Tec Specification
Specification / Model
VIT-2000
Capacity
2000N(When using 2kN load cell)
Minimum load display digits
4 or 5 digits (depending on load cell used)
Load accuracy
Within ± 0.5% of indicated value
Length resorution
0.01mm(0.001mm)
Displacement accuracy
±50μm+0.0001L(mm)
Test speed
0.1~600mm/min
Maximum measurement length
600mm *Length can be changed (option)
Measurement content
Maximum breaking value, insertion force value, Displacement step control, ON / OFF points
The maximum number of repetitions
999999Times
Number of load cell channels
3 channels
control method
Testing of the main body alone and
Full control of the personal computer
Control content
0.01mm/0.10mm/1.00mm Inching, start position return, the start of the test, the test stop
Protection circuit
Limit setting stop, overload stop, emergency stop SW
Transportation
Precision ball screw and Linear guide and
a servo motor
Table Size
W330×D180mm
Communication system
USB connection
Size
W335×H1060×D380
Weight
approx.55kg
Power source
AC100~110V or 200~240V
※Specifications are subject to change without notice.
CHARACTERISTIC.
It has a long test distance and a compact design that does not take up much space and can be installed in a narrow space.
In addition to general tensile and compression tests, step tests are possible by setting multiple stop positions in increments of 0.01mm..
Can control the analyzer at 0.01mm unit by the connection to PC.
Can grasp the measurement contents visually by displaying the wave data.
Can total automatically by the judgment of "OK ? NG" at the settlement of regulated value.
Can analyze the high-accuracy data and handle easily by PC control.
Can register your favorite pick-up points in the wave data.
The high data analyzed functions like the wave graphic diagram・the display of the poled wave graphic diagram etc are equipped by the software which is filled with the plenty of ideas.
There are the language-change functions of Japanese・English・Korean・Chinese, so can be available for several production countries and places.
【Corresponding test an example】
Compression test
Tensile test
Break test
Connector insertion and removal test
Spring test
Peel test
3-point bending test, etc.
【The main function of this software】
Test conditions save number(Limitless(By HDD capacity))
Test results save number(Limitless(By HDD capacity))
Waveform data reading function of test results
Real-time waveform comparison measurement by the superimposed waveform measurement function
Speed adjustment function waveform reload function
Area specified enlarged display function in the waveform data
Cursor point data registration function of the waveform data(Up to 10 points)
Graph back, grid lines, line color of graphic lines and the like, any setting function of the line type
Side-by-side display function of waveform data(A4 sheet minimum 1 waveform-Up to 25 waveforms)
Cascade function of waveform data(The maximum registration drawable number 10 data)
Cursor point data registration function in Cascade during the display(Up to 10 points)
Creating reports collectively by the export function to EXCEL
12-1. Export individual test results
12-2. Test results list・Aggregate result export
12-3. Waveform log data CSV format export
12-4. Tile export
12-5. Display export superposition
Clipboard copy function of the measurement screen
0.01mm、0.10mm、1.00mm,Step movement and continuous movement and stop
Language switching function(Japanese, English, Korean, Simplified Chinese, Traditional Chinese)