A switch endurance tester that can perform life tests up to
10 times/sec and 1,000,000 times.
The short circuit/disconnection automatic detection function
detects abnormalities and automatically stops.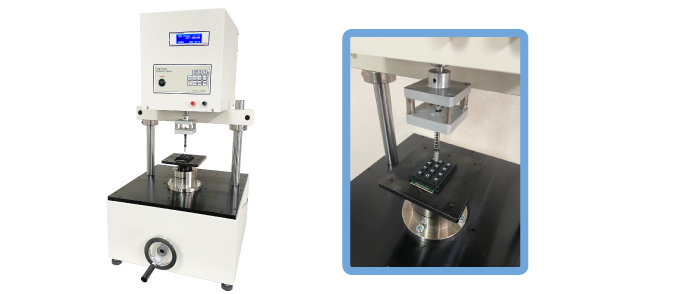 Low cost, eIf the test object has contact ON/OFF or continuity, it will automatically
detect and stop if contact abnormality or continuity abnormality occurs during the test.
The test speed can be arbitrarily set digitally with a maximum of 10 repetitions/second.
Since it is possible to pause and restart the test even during the test,
it is possible to easily readjust the settings even if an abnormality such as a position shift is found during the test.
The pushing jig has a damper structure, and the load applied to the workpiece during
testing can be adjusted.
The pushing amount (pulling amount) to the workpiece can be easily adjusted
by the height adjustment mechanism of the installation table.
STK-F500 SPEC
Spec / Model
STK-F500
Load capacity
30N
Pushing stroke
11㎜
Maximum number of repetitions
1000000 times(1 time = 1 round trip)
Speed setting range
1rev/min~600rev/min(Up to 10 round trips/1 second)
Table movable range
60㎜
Lifting handle
4mm/1 rotation
display monitor
128x64 dot blue backlight LCD
Anomaly detection function
Contact sticking detection stop,
Contact conduction abnormality detection stop,
Breakage detection stop
Power part
Servomotor
Operating temperature limit
0°~40°
Size
W400×H790×D400
Weight
app. 42kg
Power souce
AC100V~240V
※Specifications are subject to change without notice.
CHARACTERISTIC.
It has a low-vibration, silent design with almost no vibration even when operating at maximum speed.
Since there is no variation (overrun) in pushing amount due to test speed, accurate pushing amount testing can be performed.
The thrust pressure during testing can also be adjusted by exchanging the damper jig.
Since the test can be temporarily interrupted and resumed during the test, it is possible to immediately correct work position deviations.
It is possible to move to the top dead center and bottom dead center with one touch.
It has an abnormality detection function such as sticking and breakage of contacts, and can be set to automatically stop when abnormalities are detected.
It is possible to set to automatically stop by the workpiece breakage detection (limited to conductive workpieces) function.
It is possible to test tall workpieces by raising and lowering the upper unit.
* Shaft extension is also possible
The AC100V to 240V compatible power input allows installation in any country or location.
【Corresponding test an example】
Endurance test of silicon rubber switch
Mechanical switch endurance test
Endurance test of metal dome switches
Other push pressure durability in general