The direction of the measurement axis can be freely adjusted to match the angle of the specimen.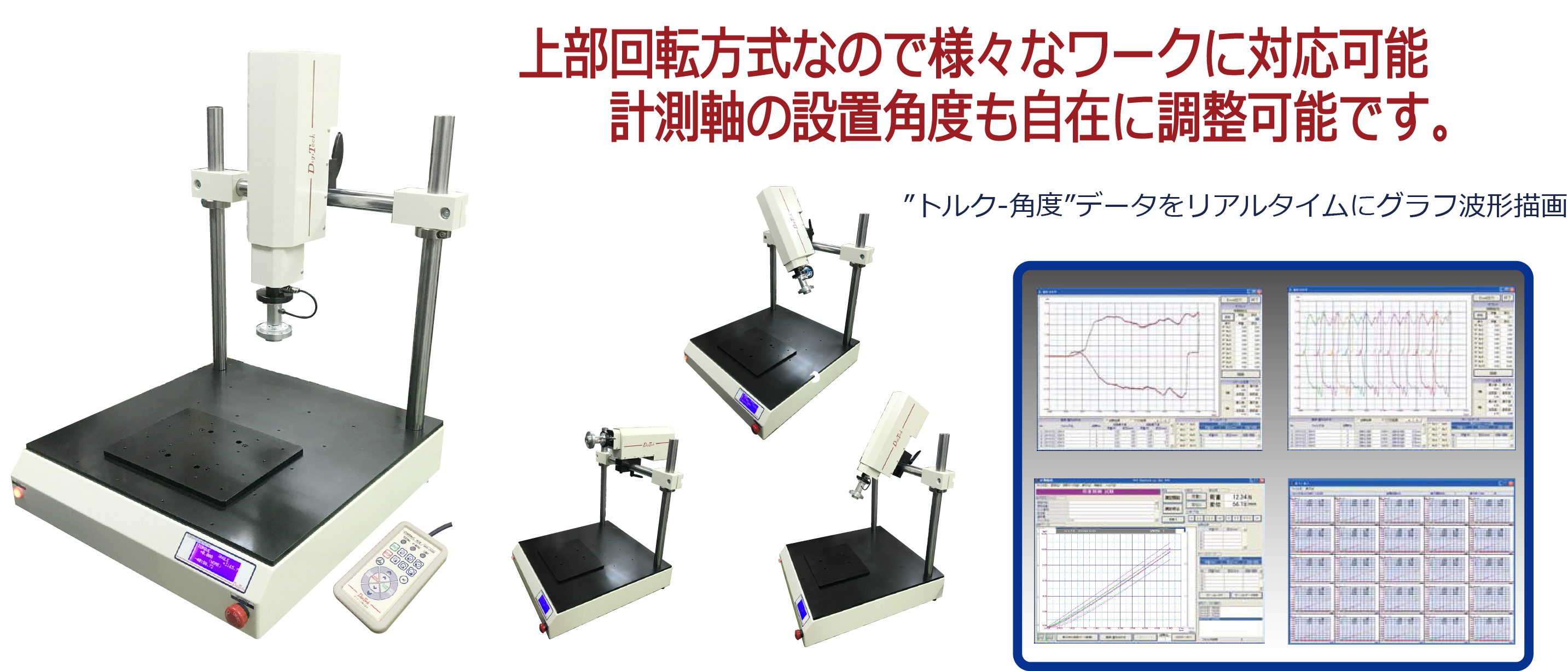 The measuring unit can be freely adjusted in the height direction, left/right direction, left/right rotation, and front/rear rotation in a wide work space of 500mm x 500mm, so it is possible to match the mounting direction of the measuring unit to any workpiece.
Detected test results are automatically saved and can be called up at any time for data analysis and report creation.
Tec-TQ5 Specification
| | |
| --- | --- |
| Specification / Mpodel | Tec-TQ5 |
| Capacity | 5N.m |
| Minimum torque display digits | Torque 4-digit or 5-digit display(By the torque cell) |
| Torque accuracy | Within ± 1% of indicated value |
| Angle resorution | 0.1 deg |
| Angle accuracy | within ±0.5° |
| Test speed | 1deg/min~1800deg/min |
| Maximum measurement angle | ±7200deg(±20 turn) |
| Number of torque cell channels | 3 channels |
| The maximum number of repetitions | 999999 times |
| Display Monitor | 128x64 dot Blue back light LCD |
| Z-axis movable distance | 80mm (with origin and measurement position memory function) |
| Protection circuit | Limit setting stop, overload stop, emergency stop SW |
| control method | Full PC control and remote control operation |
| Table size | W500×D500 |
| Communication method | USB2.0 |
| size | W506×H700×D536 |
| Weight | approx.42kg |
| Power source | AC100~240VV |
※Specifications are subject to change without notice.
CHARACTERISTIC.
Equipped with an electric linear motion axis, it can be moved to the memory position with a single touch, so the test start position can be easily set when changing workpieces.
High-precision torque measurement is possible by automatically correcting minute deflections of the torque cell and mechanical parts.
The trigger function enables automatic angle zero reset at the moment of contact with the test object.
The rotation axis can be inched by 0.1°, 1°, and 10°, making it easy to adjust the position.
The automatic return function automatically returns to the test start position at the end of the test.
Measured values can be displayed in real time as graphs and waveforms using the standard accessory PC software.
The graph waveform overlay function makes it easy to compare waveforms in repeated tests.
Graph waveform data can be developed on EXCEL in CSV format with one click.
It is possible to create a test result/aggregation result report with a waveform with a one click.
The AC100V to 240V compatible power input allows installation in any country or location.
The software has a language switching function for Japanese, English, Korean, Traditional Chinese, and Simplified Chinese, so it can be installed at different production bases with confidence.
【Corresponding test an example】
Rotating knob operating force test
Bottle cap opening test
Torsion test
Rotational friction force test, etc.

It is also possible to perform a continuous repetition test and pick up data every arbitrary number of times.
【The main function of this software】
Test conditions save number(Limitless(By HDD capacity))
Test results save number(Limitless(By HDD capacity))
Waveform data reading function of test results
Real-time waveform comparison measurement by the superimposed waveform measurement function
Speed adjustment function waveform reload function
Macro formula registration function
Area specified enlarged display function in the waveform data
Cursor point data registration function of the waveform data(Up to 10 points)
Graph back, grid lines, line color of graphic lines and the like, any setting function of the line type
Side-by-side display function of waveform data(A4 sheet minimum 1 waveform-Up to 25 waveforms)
Cascade function of waveform data(The maximum registration drawable number 10 data)
Cursor point data registration function in Cascade during the display(Up to 10 points)
Creating reports collectively by the export function to EXCEL
13-1. Export individual test results
13-2. Test results list・Aggregate result export
13-3. Waveform log data CSV format export
13-4. Tile export
13-5. Display export superposition
13-6. Macro expansion test results export
Clipboard copy function of the measurement screen
0.01mm、0.10mm、1.00mm,Step movement and continuous movement and stop
Limit stop position setting function of the testing machine
Language switching function(Japanese, English, Korean, Simplified Chinese, Traditional Chinese)