Sensation you feel when a person touches a button or switch, the keyboard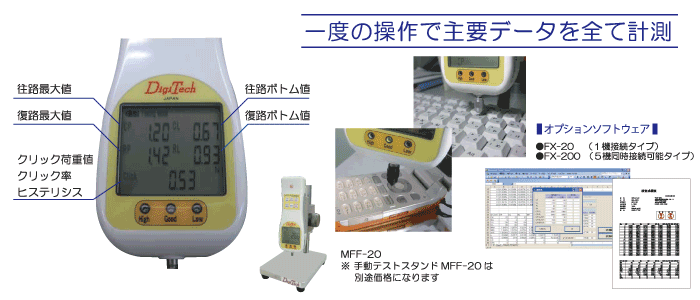 You can easily quantify the portion to be the elements of the sense of human beings, such as difficult to push easy push-receives.
A good switch development of comfortable to use, also please help us to stabilize the quality of the time of production.
Dome switches in a single operation, the peak value of the various switches, such as silicon rubber, the bottom value, click rate, drop, one-shot measure the hysteresis
Connected to the various printers printing is possible.
PC connection via USB use
Up to 500 data can be stored peak value and instantaneous value
With auto memory function
Dome switch, the peak value of the various switches, such as a silicon rubber, the bottom value, click-through rates, to measure drop, etc. in a single operation.
Automatic creation of test report in the data processing and easy operation after the test can be automatic incorporation of test results to the PC in real-time option of the software can be done.
Automatic continuous test in combination with the automatic test stand is also available.
Software is compatible with Japanese, English, Traditional Chinese, and simple Chinese.
DTF Series specification
Measuring shaft
M6
Accuracy
±0.2% f.s
Measurement unit
N,kgf(gf), lb
Measurement
To go :Peak value,Bottom value,Click ratio and head,hysteresis
Return :Bottom value,Peak value
Memory
500 data
Weight
approx. 6.5kg(includeMFF-20)
Power source
Ni-MH battery. AC100V~240V multi AC adapter.USB-C
accessories
6pcs jig. A multi AC adapter.USB cable.Carrying case.Operation manual.Warranty card
※Specifications are subject to change without notice.
DTF Series Another model list
| | | |
| --- | --- | --- |
| Model | Capacity | Resolution |
| DTF-10N | 10N,(1000gf) | 0.001N,(0.1gf) |
| DTF-20N | 20N,(2kgf) | 0.01N,(1gf) |
Option Software
FX-20(1 aircraft connection type)
FX-200(5 aircraft simultaneous connections possible type)